When deploying into the enterprise, there is a lot of flexibility when it comes to deciding how you structure the deployment, whether you want to run supporting services on premise, and which ones (if any) you choose to deploy. The decisions depend on how you plan to use our software and your security requirements. We'll be happy to discus these with you at human@flowcrypt.com.
Full deployment diagram
Below is a diagram depicting overall architecture when deploying on premise. This suits large enterprises that require the automation, full control, recovery and auditing capabilities.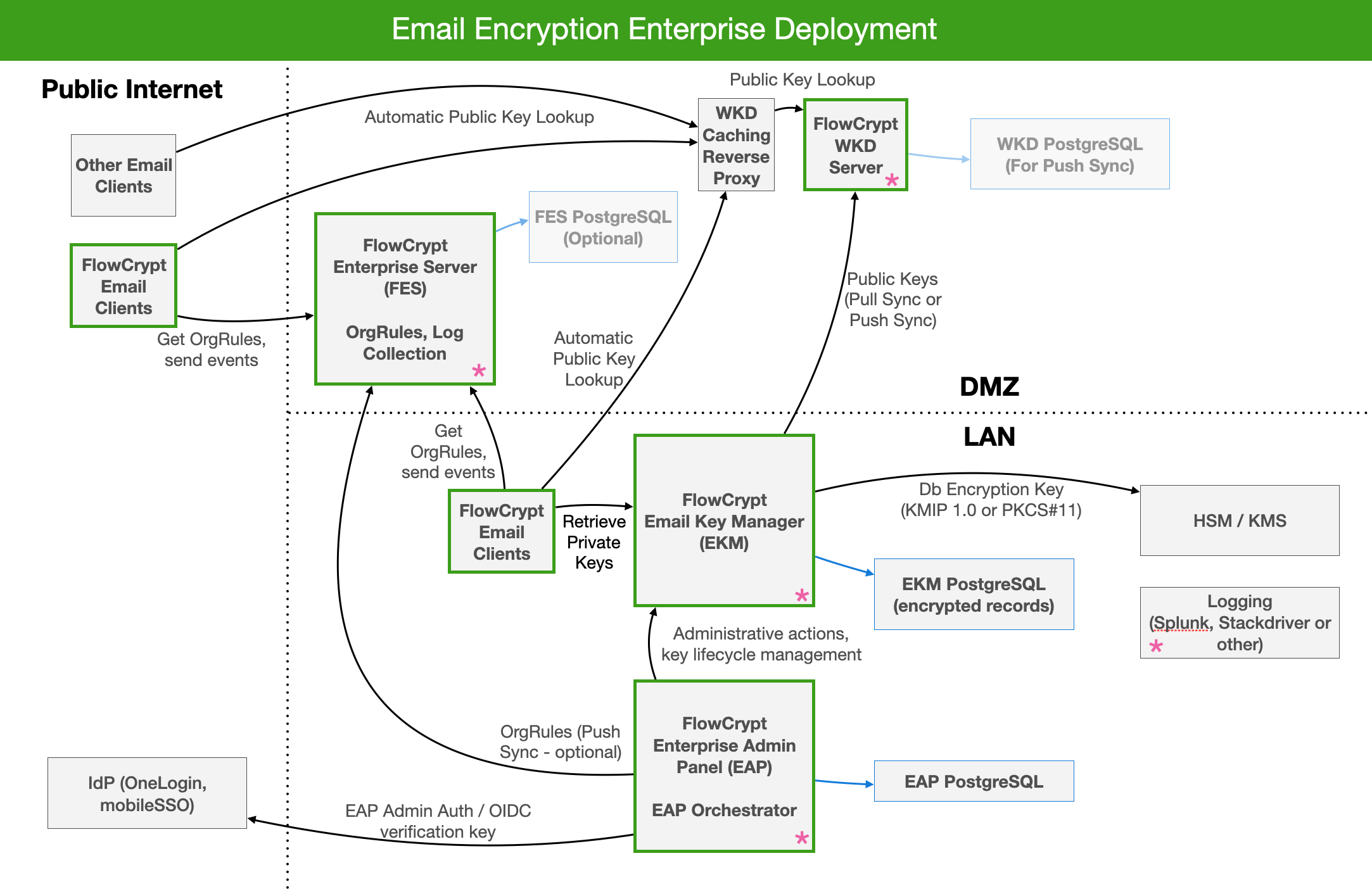 FlowCrypt provided producs
These are drawn in green border on the diagram above.
| Product | Deployment | Purpose |
| --- | --- | --- |
| Email Clients | Required | Our browser extension. Alternatively our Android app or iOS app. |
| Email Key Manager (EKM) | Optional | Stores and serves user private keys centrally within local LAN. Alternatively you can opt to manage keys manually or through existing solution. |
| World Key Directory (WKD) | Optional | Serves public keys to external users for automatic encryption between organizations. |
| Enterprise Admin Panel (EAP) + Orchestrator | Optional | Allows your privileged users to do administrative actions regarding key management and distribution. EAP Orchestrator handles key lifecycle actions like automatic key expiration, renewal, rotation. See screenshots |
| Enterprise Server (FES) | Optional | Accounts and configuration service for the Email Clients to retrieve OrgRules, send logs and provide other accounts functionality. You may either deploy FES on-prem or use a shared-tenant solution hosted by us. |
All server-side services are optional - you may deploy standalone email clients for the easiest/fastest deployment.
Your optional infrastructure
When deploying on-prem, our services may interact with your existing infrastructure for tighter integration.
| Service | Purpose |
| --- | --- |
| Identity Provider (IdP) | Your existing identity provider for unified user authentication / SSO such as OneLogin, Auth0 or others. Optional - you may use Google as an identity provider. |
| Logging | Your existing logging and events infrastructure such as Splunk, Stackdriver or others. Optional - you may simply log to stdout or to a local file. |
| Hardware Security Module (HSM) / Key Management Service (KMS) | Your existing secure key storage solution such as HSM / KMS products from Gemalto, Fortranix, Atos, Thales or others |