Missing default Gmail signature in footer of message
I could not see my default signature populated in the footer of this encrypted message. Do have to setup my signature again?
Gmail does not share default signatures with 3rd party apps, so you will need to set the signature again for messages sent with FlowCrypt.
To set a footer, use the button marked in green below (this is the bottom of secure compose window):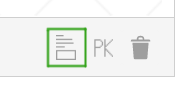 Note that, when using FlowCrypt, attaching a signature in email footer for every outgoing message is a feature reserved for paid users.